Joe Tessitore Biography
Joe Tessitore is an American Sportscaster who currently works for ABC and ESPN. He was born "Joseph William Tessitore"  in Schenectady, New York, U.S. He is the play-by-play broadcaster of Monda night football alongside analyst Booger McFarland.
Joe Tessitore's journey in the world of broadcasting began at KXAS-TV, an NBC affiliate located in the bustling Dallas-Fort Worth metroplex. It was here that he honed his skills and gained valuable experience, dedicating three years of his career to delivering news and engaging with the local community.
Seeking new opportunities, Joe's path led him to WRGB (CBS) in Albany, New York, where he continued to make his mark in the industry. However, it was in 1995 that Joe's career took a significant turn when he joined WFSB-TV (CBS) in Hartford, Connecticut.
Embracing the new environment, Joe's talents shone brightly as he immersed himself in the world of sports broadcasting. It was during this time that his unique abilities caught the attention of ESPN, an opportunity that would shape the trajectory of his career.
In 2002, Joe Tessitore was given the chance to showcase his talents on the prestigious platform of ESPN. Demonstrating his expertise and passion for sports broadcasting, he quickly made a name for himself and, in 2003, was appointed to a full-time role within the network.
Joe's infectious enthusiasm and skillful delivery earned him the opportunity to replace Bob Papa on Friday Night Fights, as well as cover college football and college basketball broadcasts. Additionally, he had the privilege of working as a broadcaster for the UConn Huskies football team, further cementing his reputation as a trusted voice in sports commentary.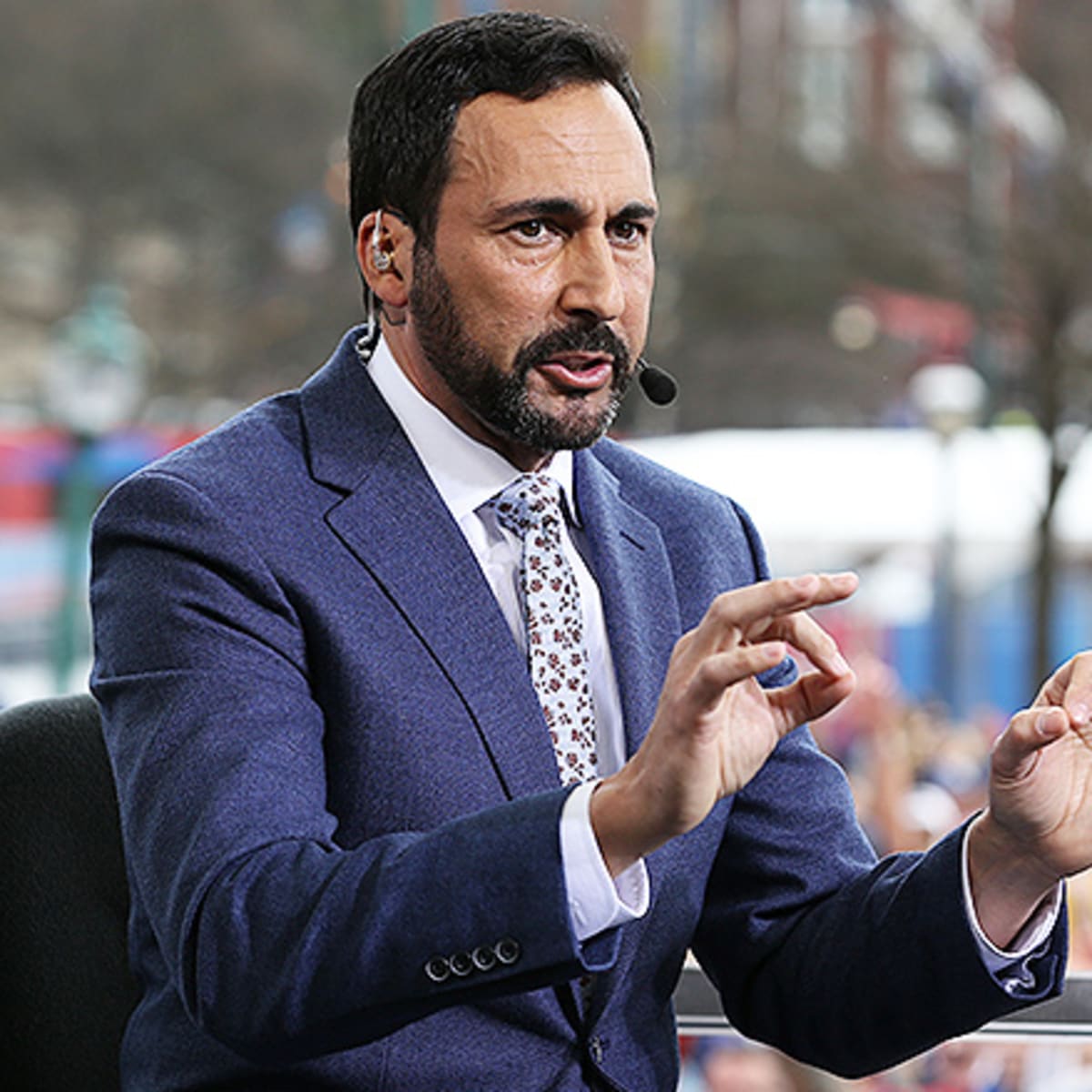 Joe Tessitore's remarkable contributions to the field of journalism have been widely recognized, earning him numerous awards and accolades. In 2016, his exceptional work led to him being chosen as the leader of the Broadcast Team of the Year by Sports Illustrated, a testament to his professionalism and talent.
Beyond his on-air appearances, Joe also served as a featured contributor for ESPN.com, lending his expertise to further enhance the network's digital presence.
In May 2016, Joe Tessitore's career reached another milestone when he stepped into the shoes of Brad Nessler as part of ESPN's college football coverage. Alongside Todd Blackledge, he brought his signature energy and knowledge to the broadcasts, captivating audiences with his play-by-play commentary.
Then, in 2018, Joe's career trajectory took yet another exciting turn when he was chosen to replace Sean McDonough as the play-by-play announcer for Monday Night Football, a coveted role that further solidified his status as a prominent figure in the world of sports broadcasting.
Joe Tessitore's Age and Birthday
Joe is 52 years old as of 2023, He was born on January 1, 1971, In Schenectady, New York. His birthday is on the 1st of January every single year.
Joe Tessitore Height
Joe stands at an average height of 5 feet and 9 inches (1.75m) with a moderate weight.
Joe Tessitore Family and Parents
Tessitore was born in an upper-middle-class family to highly educated parents alongside two sisters named Dana Tessitore and Lea Tessitore. He is a graduate of the Boston College Carroll School of Management where he graduated in the year 1993.
He completed his college preparatory studies at Christian Brothers Academy in Albany, N.Y. Tessitore is a member of the National Italian American Foundation and is on the Board of Directors for the Connecticut Cystic Fibrosis Foundation.
Joe Tessitore Wife and Wedding
Joe is married to his wife Rebecca Tessitore, The exact date of their wedding is still unknown at the moment. They had been dating for quite a while before tying the knot. In their marriage, Joe and Jessica have been blessed with two wonderful children namely John Tessitore who is currently a kicker at Boston College, and Nicolina Tessitore.
View this post on Instagram
Joe Tessitore's Net Worth
Joe has an estimated net worth of $2.3 million as of 2023, he has amassed this amount from his successful career as a sportscaster on ABC and ESPN.
Did Joe Tessitore Play Football?
Following in the footsteps of his accomplished father, Joe Tessitore, John Tessitore has embraced a future in the world of sports. Currently a freshman at Boston College, John has taken on the role of kicker, representing the same institution where his father studied and played football. Standing tall at 6 feet and 1 inch, with a weight of 185 pounds, John possesses the physical attributes necessary to excel in his position.
With a strong lineage of sporting talent and a relentless drive for success, it is evident that John Tessitore is poised to leave a lasting impact on the sports sector, much like his father, Joe. His exceptional abilities were recognized even before his collegiate career began, as he ranked an impressive 16th nationally among high school kickers by 247Sports. This recognition served as a testament to his skill, dedication, and potential.
Although John was redshirted in 2017, a common practice in college football to allow additional time for skill development and adjustment to the collegiate level, he showcased his talent and determination in the following year. In 2018, he had the opportunity to take the field, successfully booting 14 extra points in four games. This early glimpse of his capabilities set the stage for a promising future, leaving fans and sports enthusiasts eagerly anticipating his continued growth and contributions to the game.
Latest posts by Jimmy Mutua
(see all)